Current Cooking Classes
Enjoy the best cooking classes Portland has to offer. Cookin' Class rotates its menu schedule quarterly so it is always fresh and new all while giving you plenty of time to take every class you desire.
Our classes may change regularly but did you know any of our previous classes can be booked as a private party?
The Archive
Book Now
Date Night Cookin' Classes (18+)
Private Table for 2 Guests
Looking for the ultimate experience for you and your partner? Well you found it! With a regular rotating menu you get to drink, cook, and have an intimate evening with your partner all while learning how to make an exquisite meal. Really want to spice things up? Try one of our Aphrodisiac classes and leave feeling extra frisky!
Honey Baked Salmon Date Night
Appetizer
Sun-Dried Tomato Ricotta Crostini
Entrée
Honey Baked Cilantro Lime Salmon
Cranberry Pecan Quinoa Salad w/ Honey-Orange Dressing
Ratatouille
Dessert
Rosé Poached Pears w/ Ginger and Vanilla
Ricotta Gnocchi Date Night
Appetizer
Whipped Feta and Honey Dip
Entrée
Ricotta Gnocchi w/ Lemon, Sage Browned Butter Sauce
Spinach and White Bean Panzanella Salad w/ Basil Vinaigrette
Dessert
Orange Creamsicle No-Bake Cheesecake
Aphrodisiac Date Night |
Asparagus, Chicken, Saffron Oh My!
Appetizer
Chocolate Stuffed Olives
Mango Guacamole
Entrée
Chipotle, Goat Cheese, Asparagus Stuffed Chicken
Saffron Infused Rice
Dessert
Sexy Chocolate S'mores Soup for 2
Date Night |
Steak Dinner
Appetizer
Authentic Caesar Salad
Entrée
Juicy Butter Herb Basted NY Steak
Lemon Broccoli and Hassleback Potatoes
Dessert
Berry Rectangle Extravaganza
All Ages Cookin' Classes (7+)
Who doesn't love cooking as a family. These classes is class is all about you. We try to bring family time back and get your family cooking together for a nice big meal.
Budget Friendly : Sun Dried Tomato Pasta
Appetizer
Antipasto Bites
Entrée
Sun Dried Tomatoes, Sausage, and Spinach Spaghetti
Artichoke Salad w/ Herbs, Almonds, and Parmesan
Dessert
Strawberry Shortcake
Appetizer
Pok Pok-Inspired Chicken Wings
Entrée
Bibimbap Bowl
Dessert
Warm Apple Turnovers w/ Tillamook Ice Cream
Appetizer
Bacon Goat Cheese Pistachio Cups
Entrée
Chicken Piccata w/ Creamy Spinach Parmesan Orzo
Dessert
S'mores Crunch Wrap
Appetizer
Pita & Tzatziki Sauce
Entrée
Gyro w/ Souvlaki
Greek Salad
Dessert
Baklava
Appetizer
Beer Battered Onion Rings w/ Homemade BBQ
Entrée
Philly Cheesesteak Pockets
Dessert
Chocolate Porter Brownies
Picnic Menu
Sweet & Spicy Oven-Roasted Pecans
Turkey, Bacon, Cream Cheese Pinwheels
Quick Pickles
French Onion Dip
Dessert
S'mores Cookies
Tapas Menu
Smoked Cheddar Stuffed Mushrooms
Baked Reuben Cups
Garlic Break w/ Sausage Marinara Dip
Dessert
Peanut Butter Cookies
Appetizer
Fresh Kale Salad w/ Lemon Dressing
Entrée
Homemae Pizza Dough, Sauce, and Pick-Your-Own Toppings Bar
Dessert
Cinnamon Sugar Braided Ring
Appetizer
Chop Salad w/ Ranch Dressing
Entrée
Homemade Pizza Dough, Sauce, and Pick-Your-Own Toppings Bar
Dessert
Cinnamon Sugar Braided Ring
Who doesn't love breakfast? Dirty our kitchen instead of yours and make a delicious meal for the whole family.
Don't worry parents we always have Mimosas, BloodyVerms and Hot Coffee.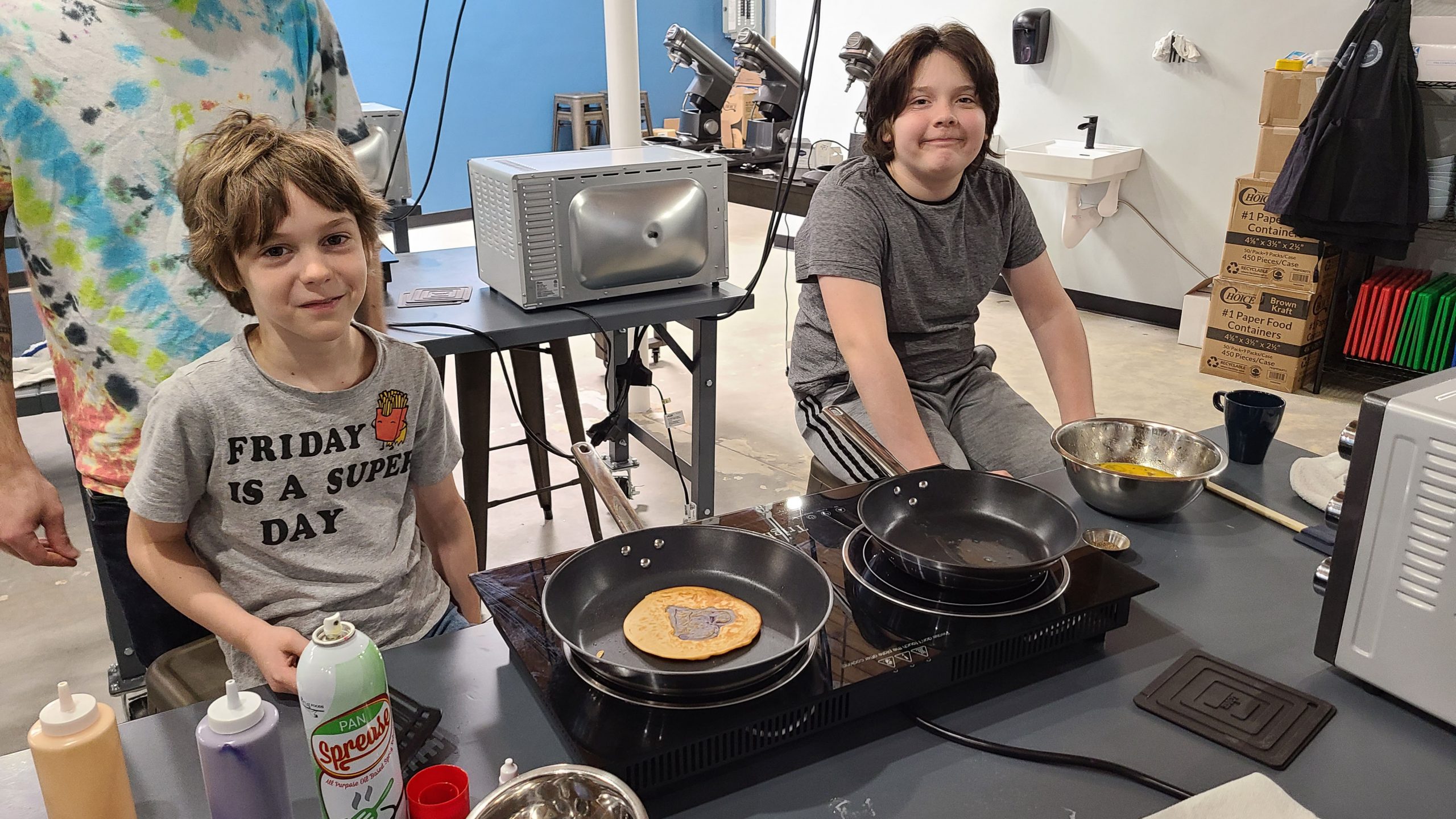 Breakfast
Eggs Benedict (Vegetarian Option Available)
Red Roasted Potatoes
Drink Special
$5 Mimosa & BloodyBeer or BloodyVerm Bar
Breakfast
Build Your Own Frattata Bar
Homemade Vanilla Granola & Peach Parfait
Drink Special
$5 Mimosa & BloodyBeer or BloodyVerm Bar
Around-the-World Series (7+)
Most people haven't even left the United States. Well at least your pallet can with this unique class. Every quarter we feature a different country around the world and their cuisine. You'll make an appetizer, entree, and dessert from that country. Plus feature a special drink from that country as well.
Around the World | Greek Night
Appetizer
Saganaki (Flaming Cheese)
Entrée
Yemista (Stuffed Tomatoes)
Oven-Roasted Lemon Oregano Potatoes
Watermelon Cucumber Fruit Salad
Dessert
Baklava
Around the World | Mexican
Appetizer
Chicken Tortilla Soup
Entrée
Steak Rancheros w/ Rice, Beans, and Pico De Gallo
Dessert
Churros w/ Chili Chocolate Sauce
24 Guests Group Class
2.5HR 
Tired of the same old song and dance. Shake things up with new experience and meet some great people at the same time. These classes are all about letting loose and having a good time. Oh and did we mention drinks and lots of food! Learn, create, socialize, and have fun!
12 Kids Group Class
90MIN
Kids love to cook too and this all about them and giving them more opportunity in the kitchen. We all know parents need a little alone time. Your child is safe with us for you to leave and enjoy some sanity. Don't worry, it's only 90 mins and they will still be the same bundle of joy when you return.
24 Guests Group Class
2.5HR 
Trying to meet some new people then this class is for you. We bring together singles who are looking to mingle and meet new people. You learn to make an amazing meal you can use on a future date.. just an idea. You get to drink and socialize with a group of up to 20 other people. We encourage movement during this class and really try to get everyone engaging with everyone else.
Thinking About a Private Party?
Want to pull something out of retirement?
We welcome all private parties to peruse our archive. Happy to bring back any class from the past you like.